Pediatrics conference 2018
About Conference
About Conference
EuroScicon takes great privilege and honour to invite participants around the world to attend 2nd Edition of International Congress on Pediatrics which is going to be held during March 26- 27, 2018 at Edinburgh, Scotland. EuroScicon is dedicated to keep you updated with the most innovative and best practices in the field of Pediatrics. We cordially welcome all the eminent doctors, researchers, students and delegates to take part in this upcoming Pediatrics Conferences 2018 as it provides the biggest educational opportunities in different areas of Pediatrics.
Pediatrics Conference 2018 will focus on the latest exciting and novel topics in all areas of Pediatrics. It offers an exclusive opportunity for those who are looking to obtain continuing medical grades and those who are willing to share their research expertise to the world. It provides a platform to the budding scientists, researchers, students across the globe to meet exchange and perceive new scientific innovations. This year's annual congress highlights the theme, "Exploring the emerging technologies and novel advancement in the field of Pediatrics" which reflects the innovative progress in Pediatric disease research. The two days conference includes a variety of state-of–the–art-sessions, child health care workshops, symposiums, special keynote sessions, roundtable discussions, panel discussions, and poster presentations, young researcher forums conducted by eminent and renowned speakers who excel in the field of Pediatrics. This conference comprises the topics: Pediatrics, Pediatric Oncology & Hematology, Pediatric Dermatology, Pediatric Gastroenterology, Pediatric Allergy and Asthma, Pediatric Cardiology, Pediatric Orthodontics, Pediatric Neurology, Pediatric Nephrology, Pediatric Endocrinology, Neonatology and Perinatology, preventive measures and Treatments of Pediatric Diseases. This international congress on pediatrics also encourages the active participation of young and dynamic student researchers as we are hosting Poster Award Competition and Young research Forum at the conference venue.
Euroscicon believes that professionally-oriented education in pediatric medicine is essential in the training of clinicians and academicians and organizes Pediatric conference at Edinburgh, Scotland. EuroScicon 2nd Edition of International Congress of Pediatrics will not only provide you a wonderful channel to upgrade your knowledge and explore the advances in the field of pediatrics but also the conference theme will underpin the urgent need for collaboration and cooperation of eminent personalities and individuals from a wide range of scientific backgrounds..
Why to attend?
Pediatrics is the branch of medicine that is concerned with medical care, development and diseases of Babies, Children and Adolescents. The people all over the world should be focused on learning about Pediatrics and its forwards in controlling the spread of infectious diseases in children and promote healthy lifestyle. It is going to be a best opportunity to influence the largest assemblage of participants from the Pediatrics community. It will strive to provide plenty of opportunities for networking, to meet and interact with some of the leading scientists, researchers, colleagues along with sponsors and exhibitors. We also invite the participation of Presidents, CEO's, Delegates and industrial executives from Pharma and Health care sectors making the congress a perfect platform to network, share views and knowledge through interactive keynote, plenary, poster and B2B discussions.
Target Audience:
Pediatricians
Pediatric Scientists
Pediatric Researchers
Pediatric faculty
Pediatric Associations and Societies
Medical Colleges
Pediatric Physicians
Data Management Companies
Training Institutes
Software developing companies
Business Entrepreneurs
Manufacturing Medical Devices Companies
Sessions/Tracks
The 2nd Edition of International Congress on Pediatrics is a highly committed meeting with a stimulating, multi-disciplinary programme intended at providing the new frontiers in Neonatal Intensive Care, Pediatric Immunology, Pediatric Infectious Diseases, Pediatric Oncology, Pediatric Pulmonology, Pediatric Allergy, Pediatric Cardiology, Pediatric Neurology, Pediatric Endocrinology, Pediatric Hematology, Pediatric Gastroenterology, Pediatric Urology, Pediatric Psychology, Pediatric Surgery, and Pediatric Emergencies etc.
We bring together a diversity of groups to not only discuss unique research, but to also discuss how this research can be useful to actual clinical practice in pediatrics. This association also provides opportunity to discuss other serious issues that affect child health such as public policy and advocacy. This conference is providing an excellent opportunity to celebrate the past and future of the Pediatric discipline in this millennium.
Track 1: General Pediatrics:
Pediatrics can be called as the new modern medicine of the society. It is the branch of medicine that is concerned with the health of infants, children, and adolescents; their growth and development and their ability to achieve full potential as adults. The age limit usually ranges from birth up to 18 years of age.
Track 2: Neonatology and Perinatology:
Neonatology focuses on new-born infants, particularly ill or premature new-born's. If a child has a birth defect or is born prematurely, a neonatologist will assist with delivery and the care of the infant. If a problem is discovered before the baby is born, the neonatologist will consult with the patient's obstetrician during the pregnancy. Neonatologists can address complex and high-risk situations that a general pediatrician may not be well equipped to handle. They can also identify infections, or breathing conditions, treat new-borns for any kind of life-threatening illness, and coordinate the care of new-borrns to make sure they receive proper nutrition for healing and growth.
Track 3: Pediatric Allergy &Immunology:
Pediatric Allergy and immunology is an important subject to be learnt in order to concentrate on factors related to child's immune system. They promote screening, diagnosis, and treatment of children with a wide array of immune issues including allergies to food, medicines, chemicals and plants, severe allergic reactions (anaphylaxis, primary immune deficiencies, and acquired immune disorders) allergy based dermatitis and inherited defects that alter or impair immune response.
Track 4: Rheumatology Pediatrics:
Rheumatology is the branch of medicine that is devoted to diagnosis and treatment of children with disorders of the joints and bones. They include diseases like vasculitis, lupus and juvenile rheumatoid arthritis. Many of the diseases are now known to be disorders of the immune system. Common Rheumatic disorders include Lyme disease, Systemic lupus Erythematosus, Behcet's Disease, Polymyalgia Rheumatica, Rheumatic fever. Lupus erythematosus is a name given to a collection of autoimmune diseases in which the human immune system becomes hyperactive and attacks normal, healthy tissues. Many rheumatic diseases are chronic conditions. They are unlikely to go away. There may not be a cure for certain conditions but effective management is available for most. Many individuals with rheumatic disease lead happy, satisfying lives year after year.
Track 5: Pediatric Surgery:
Pediatric surgery is a subspecialty of surgery involving the surgery of foetuses, infants, children, adolescents, and young adults. It is a combination of both surgery and pediatrics. Pediatric surgery is liable for the treatment of many disorders through surgical operations in children and plays vital role in saving lives at birth stage by surgery. Pediatric surgery can be further divided into sub categories, known as, pediatric cardiothoracic surgery, pediatric surgical oncology, pediatric nephrological surgery, pediatric neurosurgery, pediatric urological surgery, pediatric hepatological surgery, pediatric orthopedic surgery, pediatric vascular surgery and pediatric oncological surgery.
Track 6: Pediatric Gastroenterology:
Pediatric gastroenterology deals with disorders and diseases of the gastrointestinal (GI) tract. These conditions may be persisting at birth or surface later as the child develops. Common examples include food allergies, anorexia and bulimia, chronic constipation, celiac disease, colitis, Cohn's disease, diarrhoea, , gluten sensitivity, failure to thrive, irritable bowel syndrome, and other related digestive and elimination problems.
Track 7: Pediatric Hematology:
Pediatric Hematology/oncology is concerned with care for children who have cancers, such as leukemia, brain tumours and osteosarcoma. It involves diagnosis and treatment of children with various blood disorders, such as hemophilia, neutropenia and anemia. Pediatric hematologists work with children who have blood, bleeding and clotting disorders and diseases. Examples vary widely and range from most common and pernicious anemia to hemophilia and sickle cell disease.
Track 8: Pediatric Nephrology and Urology:
Pediatric Nephrology is focused to treat children who are born with or develop kidney disorders. Definitive conditions include blood in the urine, blood pressure issues related to kidney efficiency, bladder problems, kidney stones, decreased kidney function, swelling and water retention issues, and urine infections. Because of the significant overlap in function and treatment, pediatric nephrologists and urologists often work closely together. Pediatric urology is concerned with treatment of children who have disorders or diseases associated with their kidneys, bladder, urethra or genitals. Conditions range from urinary tract obstructions and malformations of the genitals to dysfunctions such as bedwetting and incontinence, issues such as hernias and undescended testes, and urinary tract infections.
Track 9: Pediatric Cardiology:
Pediatric Cardiology is focussed on treating children who are born with or who develop heart or vascular system deficiencies, abnormalities or defects. Examples range from heart murmurs and chest pain to dizzy spells, muscle disorders, valve defects, irregular heart rhythm, palpitations, high or low blood pressure, and issues related to the blood vessels.
Track 10: Pediatric Endocrinology:
Pediatric Endocrinology is the branch of medicine concerned with a wide array of disorders associated with the endocrine and hormone systems. Examples include diabetes, thyroid concerns, early or delayed puberty, accelerated or delayed growth, blood sugar issues, adrenal or pituitary gland dysfunction, and ovarian or testicular disorders.
Track 11: Pediatric Orthopedics:
Pediatric orthopediology is specialized in diagnosing, treating and managing the full spectrum of children's musculoskeletal problems. Issues range from a toddler who walks on tiptoe to deformities such as clubfoot, curvature of the spine or broken bones, different limb lengths, as well as, infections, tumors or growths in or on bones and joints.
Track 12: Pediatric Neurology
Pediatric neurology or child neurology is a specialized branch of medicine that deals with the diagnosis and management of neurological conditions in neonates, infants, children and adolescents. The discipline of child neurology comprehends diseases and disorders of the spinal cord, brain, peripheral nervous system, autonomic nervous system, muscles and blood vessels that affect individuals in these age groups.
Track 13: Pediatric Genetics:
Pediatric Genetics involves specialized training in both pediatrics and genetics. These differences could lead to the child having problems with health, social interaction and/or development. Pediatric geneticists can also help determine whether a specific disease is hereditary and can offer testing for family members to determine if children will develop similar problems to those of parents. Pediatric geneticists comprise the medical care to children of all ages from birth to adolescence. Tests are conducted on all infants regardless of whether or not they appear healthy, since many defects are not visible at birth.
Track 14: Physical medicine and rehabilitation:
Physical medicine and rehabilitation specializes in the rehabilitation care and medical management of children with brain injuries, spinal cord injuries, neuromuscular disorders, and an array of musculoskeletal conditions. Cognitive and physical disabilities affect growth and development hence rehabilitation and physical medicine helps to develop and direct individualized treatment programs. The physicians and nurse practitioner in the pediatric rehabilitation medicine division provide evaluation and on-going care to patient in rehabilitation clinics, Cerebral Palsy and other Related Disorders.
Track 15: Child Psychiatry:
Child Psychiatry Pediatrics is concerned to determine if a child has any learning, developmental, or behavioural problems. They can upkeep with a number of issues including learning and attention disorders and delayed development in speech, motor skills, and thinking ability and other habit disorders. Developmental-behavioural Pediatricians are similar to, but not the same as, child psychiatrists. Child abuse physicians specialized in diagnosis and treatment of children who are suspected victims of abuse and maltreatment including physical abuse, emotional abuse and sexual abuse and other factitious illness. They also treat victims of neglect. For example, child abuse Pediatricians may treat children with chronic conditions that have occurred due to neglect or abuse, also malnutrition or psychological problems. Child abuse physician specialists work in community hospitals, health clinics, in research and are often called to provide testimony in court systems.
Track 16: Pediatric Intensive Care & Nursing:
Pediatric Care & Nursing is the combination of pediatrics and nursing. Mostly trained nurses from field of pediatrics plays a major role in pediatric nursing. The track includes The importance of Health Care, Neonatal intensive care and Nursing, Schizophrenia and Nursing care, Psychiatric & Mental Health Nursing. Emergency care nursing is the important part of training given to medical nurses and graduates, so that in case if absence of a complete emergency practitioner, they can be a help for patients.
Track 17: Pediatric Pulmonology:
Pediatric pulmonology diagnose and treat problems with a child's breathing or lungs. It involves treatment of patients from birth to 21 years old for a range of illnesses such as chronic coughing, asthma, cystic fibrosis, and other conditions that involve special equipment to monitor or help a child's breathing.
Track 18: Pediatric obesity:
Pediatric or childhood obesity is the most prevalent nutritional disorder amongst children and adolescents worldwide. The occurrence of obesity is highest among specific racial groups. It increases the risk of heart diseases in children and adults. Childhood obesity predisposes the individual to insulin resistance and type 2 diabetes,hyperlipidemia, hypertension, liver and kidney diseases and causes reproductive dysfunction in adults. Obesity in children is a major health concern of the developed world. Factors, such as eating habits, genetics, environment, metabolism, and lifestyle play an important role in the development of obesity. The symptoms of obesity include breathing disorders, sleep apnea, chronic obstructive pulmonary disease, certain types of cancer such as prostate, bowel, breast and uterine, coronary heart disease, diabetes (type 2 in children), depression, liver and gallbladder problems, gastro-esophageal reflux disease, high blood pressure, high cholesterol, stroke, and joint diseases such as osteoarthritis, pain in knees and lower back.
Track 19: Physical medicine and rehabilitation:
Physical medicine and rehabilitation specializes in the rehabilitation care and medical management of children with brain injuries, spinal cord injuries, neuromuscular disorders, and an array of musculoskeletal conditions. Cognitive and physical disabilities affect growth and development hence rehabilitation and physical medicine helps to develop and direct individualized treatment programs. The physicians and nurse practitioner in the pediatric rehabilitation medicine division provide evaluation and on-going care to patient in rehabilitation clinics, Cerebral Palsy and other Related Disorders.
Track 20: Pediatric emergency medicine:
Pediatric emergency medicine is a medical subspecialty of both pediatrics and emergency medicine. It includes the care of undistinguishable, unscheduled children with acute illnesses or damages that require immediate medical attention. pediatric emergency specialists undertake the necessary investigations and interventions to diagnose patients in the acute phase. Pediatric emergency physicians generally practice in hospital emergency departments.It also deals with physical fitness and the treatment and prevention of injuries related to sports and exercise.
Adolescent medicine includes diagnosis and treatment of adolescents with various types of medical conditions. They may also concern for young people with conditions like alcohol and drug abuse, eating disorders, growth problems and mental health issues.
Market Analysis
Scope and importance:
2nd Edition of International Congress on Pediatrics contributes the prospects to determine advanced techniques used in pediatrics. EuroScicon takes great privilege and honour to invite participants around the world to attend 2nd Edition of International Congress on pediatrics which is going to be held during March 26- 27, 2018 at Edinburgh, Scotland. Pediatrics 2018 is a perfect channel to expanding inventive techniques and novel research trends in the field of Pediatrics.
The organizing committee is gearing up for an inspiring and educational conference program including plenary talks, symposia, workshops on a variety of topics, poster presentations and various programs for participants from all over the world. We invite you to join us at Pediatrics 2018, where you will sure have an evocative experience with scholars from around the world. All the members of Pediatrics 2018 organizing committee look forward to meet you at Edinburgh, Scotland.
Our aim is to build an ambitious and exceptional program focusing on basic science, medicine and clinical research where state of the art views of the recent advances in Pediatrics will be covered. We will bring together scientific and clinical bests as well as young scientists from all over the world in order to lead interactive debates.
Why Scotland?
2nd Edition of International Congress on Pediatrics has chosen Edinburgh as the location of its 2nd conference to be held in Scotland as is the capital city of Scotland and one of its 32 council areas. Scotland's appalling record on child health has been uncovered in a major study as amongst the poorest in Western Europe. The State of Child Health - Scotland report found that more than 210,000 children live in poverty, 28 percent are overweight or obese, and around 400 die each year in Scotland, 30% of pregnant women in the most deprived areas are smokers. Child health in Scotland is amongst the poorest in Western Europe with a significant number of these deaths potentially avoidable. What keeps Pediatrics ahead from all the other branches of of medicine is the simple notion that children are our future and that their health and well-being are a matter of broad social concern. Reflecting this imperative, we believe that professionally-oriented education in Pediatric diseases is essential in the training of clinicians, pediatricians, researchers, clinical academics and students who will provide the future leadership in this key area for global health.
The decision by the EuroScicon to hold its annual congress in Edinburgh is a reflection of both Scotland and the city's educational credentials and world-class conference facilities. Scotland has a robust reputation in the key sectors of sport science and medicine, and it provides an ideal environment for academics and scientific professionals to share knowledge with international delegates.
Associations and society associated with Pediatrics in Scotland
Scottish Paediatric Society
The European Society of Paediatric and Neonatal Intensive Care
European Paediatric Association
Association of Pediatric Gastroenterology and Nutrition Nurses
European Society for Pediatric Neurosurgery
Association of Pediatric Surgery
The European Academy of Allergy and Clinical Immunology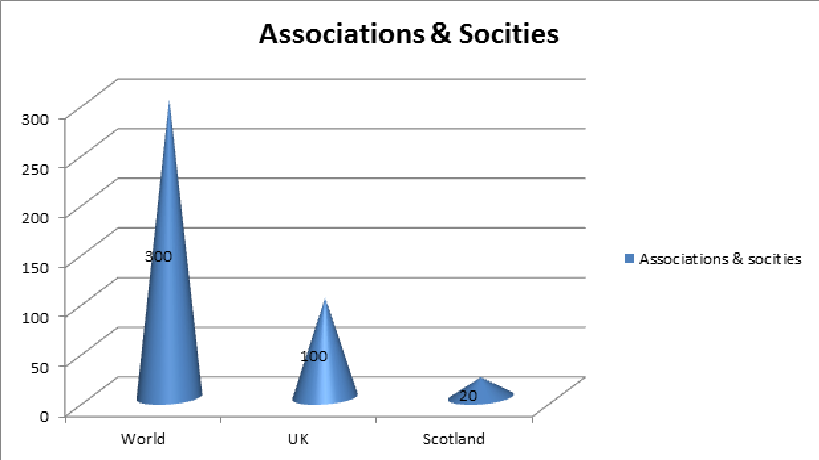 There are a number of generic pediatricians across the globe and UK. As per the records it is being approved that globally 8.41 % are registered Pediatricians with specific specialty.UK is said to be one of the top most countries having a large number of Pediatricians.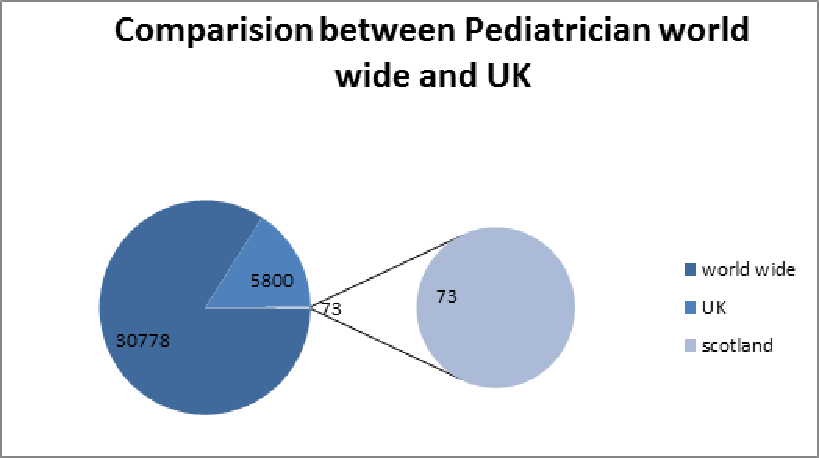 Hospitals Associated with Clinical Pediatrics Research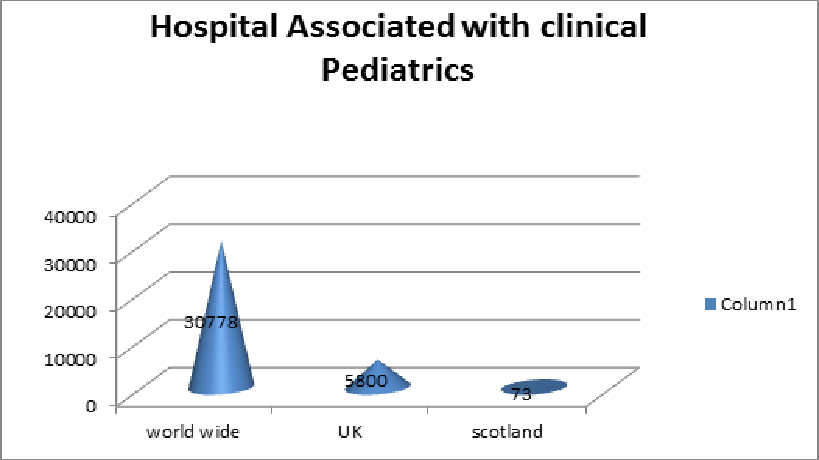 Universities Associated with Clinical Pediatric Research
In Scotland there are approximately about 35 Universities which include Pediatric research. In UK alone there are 134 Universities and globally there are about 1367 universities which include clinical Pediatric research.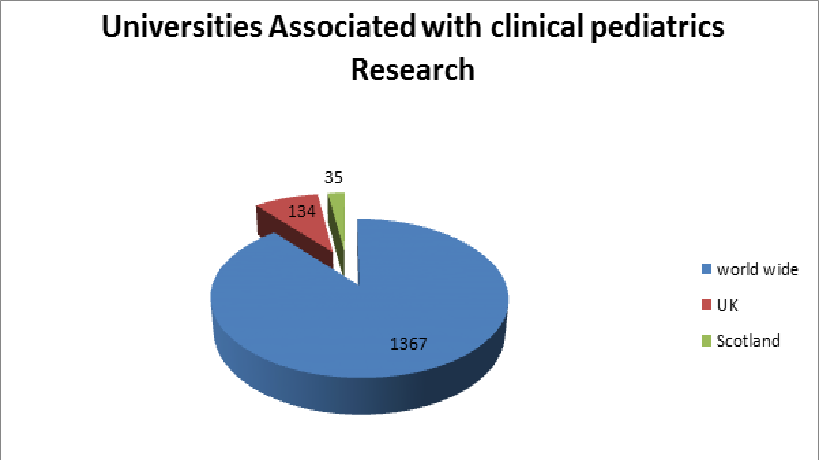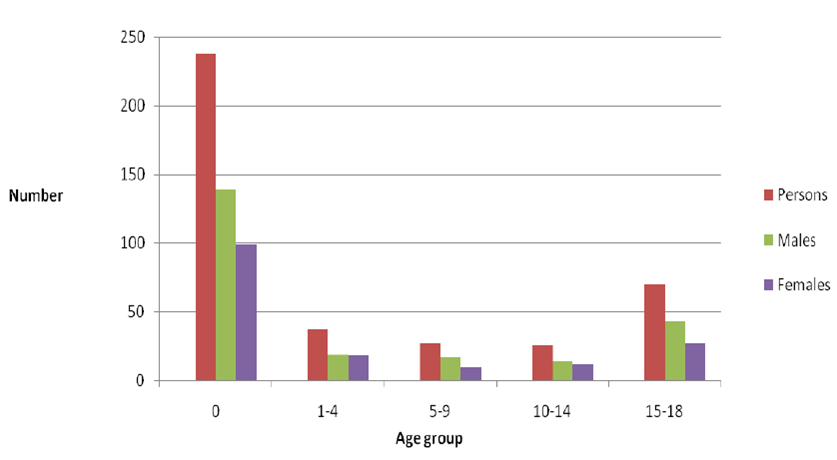 Percentage of child deaths due to injury by country and age at death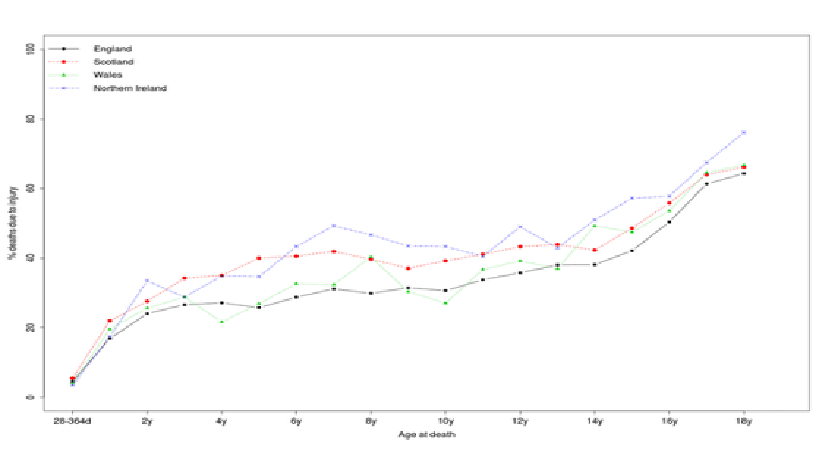 Market Growth of Pediatric Research in the last and upcoming ten years
As the number of infant mortality increasing the market growth on Clinical Pediatric research is also increasing yearly. 2012-2016 it being acknowledged that the market value on Clinical Pediatric research globally is $72 billion. The estimated market value in the future on Clinical Pediatric research is $81billion.